Single Origin Series – New Release
Andrew Platt
Due to such a high demand for our single origin coffee: Don Mayo, Los Nacientes, we have decided to create a lineup consisting solely of "single origin" coffees. Single Origin refers to country-specific coffees that deserve their own place as they contain beans only from that particular region. This series helps us to reflect and share on the beautiful coffees that we have uncovered from all over the world. It also helps to emphasize our promise of forging partnerships directly with farmers, which keeps us ahead of our competition. While we try many single-origin coffees every year, we only have room for the very best. Our team has decided to feature two delicious coffees; Don Mayo, Las Nubes and Konga, Yirgacheffe.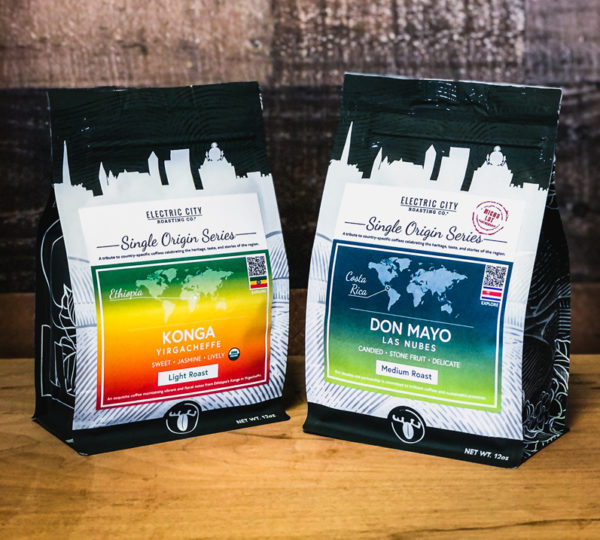 Don Mayo Las Nubes
We are so excited to bring you our Single Origin Series, Don Mayo Las Nubes from Costa Rica. We have been buying the Costa Rican Don Mayo Los Nacientes for over a decade; this staple coffee has been a staple in our partnership coffee lineup. The new Don Mayo Las Nubes is a coffee that came to us to try, and we couldn't resist adding it to our lineup. This coffee is processed with their honey, which is maintained on the coffee during the drying stages of their processes. The honey process adds a candied sweetness that is something to look forward to in every cup. After sampling this coffee, it was so outstanding on the cupping table that it needed to jump ahead in our queue. We love it so much, and we are confident to see this becoming a recurring offering at ECR for many years to come.
Konga Yirgacheff
We have been searching for a clean and beautiful washed coffee from Ethiopia that showcases the lively characteristics that this region has to offer in coffee. When our team tried the amazing coffee, Konga Yirgacheffe, it far exceeded any expectations. On the cupping table we were getting sweet flavors, jasmine notes, and a really desirable acidity. This coffee is also USDA Organic certified which is an added bonus. Overall, there was so much to love about these fabulous coffee beans.
Roasted and Brewed to Perfection
During the roasting process we try to optimize the coffee's potential to achieve the cup profile consistent with the expected taste, especially when dealing with a single origin coffee. Many of these coffees are so nuanced and so special that the roasting process and attention to detail is critical. Using our Costa Rica coffee as an example, the turning point and the time of development need to be monitored and profiled to be able to create the taste profile we want to achieve. Our Las Nubes is a honey coffee, so in order to maintain the sweetness in this coffee, we do not want to extend the time of development, and likewise cutting it too short can potentially produce an overly tart taste with a short aftertaste.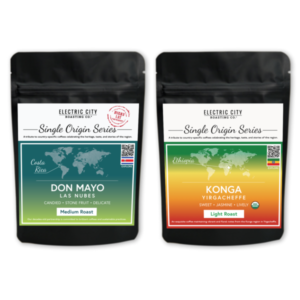 Our Single Origin Variety Pack
When it comes to brewing these single origin coffees, we often look to pour overs, which accentuate the intricate flavors and aromas of the specific coffee being brewed. This brewing method allows us to refine and control many factors such as temperature, coffee to water ratio, speed and pattern of the pouring of water. This provides optimal extraction of flavors from the grounds that is desired by coffee enthusiasts.
We make it a priority to serve single origin coffees on pour over at ECR Park cafe to provide customers with the opportunity to taste our specialty coffees at their finest, boasting the unique characteristics of their countries of origin. Pour overs are a great way to experience the different coffees we offer outside of what is typically served as the house blend.
These specialty single origin coffees are available for purchase on the website, and for a limited time at select local NEPA cafes such as ECR Park in Peckville and Zummo's in Scranton. Online, we offer both Don Mayo Las Nubes and Konga Yirgacheffe for sale in 12 oz bags, and there is also the option to purchase our Single Origin Series Variety Pack that spotlights both coffees in smaller 4 oz portions – a great way to sample both coffees! This also isn't the last of this lineup; be sure to keep an eye out for many new favorites coming down the pipeline.