Coffee in the Time of Quarantine. Pt 2.
Erich Hunisch
The weather sure is nice today. When I have some time, later, I think I'll pull the bike from the shed, where it's stood all winter. Grease the chain, adjust cable tension (adjusting your cables after an off season is important, especially if its been in cold storage because the temperature swells can cause those cables to come out of spec tension and give you shifting and braking issues). I've seen a fair amount of runners, walkers and cyclists from my window today, so perhaps I'll join them. It seems the thrill of getting out on two wheels may just be, in fact, a safe activity. Barring any major unforeseen major mechanicals, you may just catch me riding down the heritage trail on a sunset cruise.

In the same vein that I'm itching to get some vitamin D, lots of folks are looking for a convenient way to keep a delicious meal on the table. Today, I spoke with Joey Musheno, Owner & Operator of Zuppa Del Giorno. Zuppa has been a lunchtime staple in the ECR office (I could really go for a Mediterranean burger about now, with a side of fries covered in Joey's signature seasoning blend). Joey has some really robust offerings for his walk-in and delivery customers, that he goes into detail with down below. As a foodie and a fan of Joey's already, I implore, if you are looking for something new and tasty, to call Zuppa Del Giorno and try something today.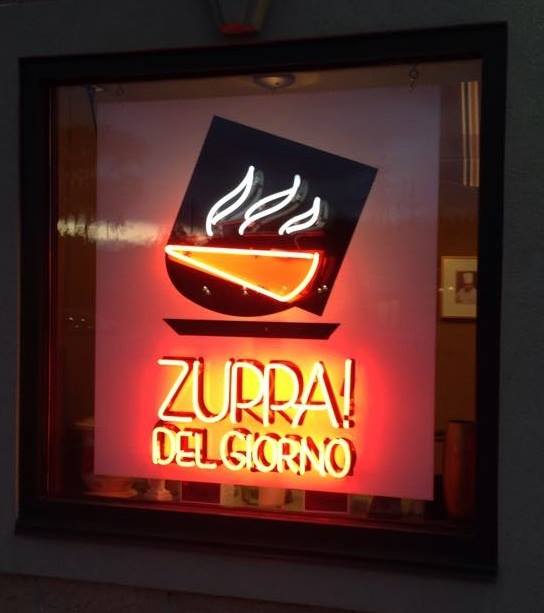 517 Ash St #500, Scranton, PA 18509

In keeping with the theme of coffee and quarantine, Joey and I discuss what life and business has been like for the past several weeks, and where he thinks it's headed.
EH: Joey, I know you fairly personally, I bet I can guess what you miss most about daily operations.
JM: Ha! I'm sure you can, of course it's interacting with my customers, honestly. Especially the regulars. People I see come through my door, I tend to see more than my family. I miss those details and small interactions with those people. It stinks not being able to see them and interact with them on a regular basis.
EH: I hear that, I miss my coworkers and customers too. We're all still doing daily conference calls, but man, the face to face interaction is seriously lacking right now. If you could address you customers right now, what would you say?
JM:I want to say thank you to all of my customers, those still able to order from us, and to those we haven't seen, that we'll still be here for them when all this is over. I just wish for everyone to remain as safe as possible through the coming weeks.
EH: Right, keeping ourselves and our close ones safe is paramount right now. With business being not so "as usual", what is Zuppa Del Giorno doing to be able to cater to the available customer base?
JM:We're trying to focus on delivery. We're still delivering! I started doing dinner to-go kits for people who can't make it to the store, or are unable to find what they're looking for. This week we're featuring Pasta, choice of sauce, meatballs and dinner rolls to serve for 1-4 people, or even more. If you call ahead, I'll even boil the pasta for you!
We're also doing a sausage and peppers dinner with roasted potatoes and a side salad. These features will change weekly. But I want to make sure that anyone who's looking for a great meal can find one.
EH:That's truly awesome, it's like having your own personal chef! I know alot of people are rather landlocked right now, and dinner or lunch to-go sounds very convenient. I'm curious, Joey, when this is all over, what do think the fabric of community-driven local business will look like?
JM: I would hope that we'll see a lot of new ways for small businesses to work together, and share the opportunities that we have. Maybe we can find different and new ways of promoting each other. When all of this is finally over, it doesn't mean that everyone will rush out. A lot of people may be nervous, and I'd just like to see the outpouring of togetherness we've experienced here remain as a pillar inside the local business community.
EH: I'm tearing up man, I agree. It think a-lot of us do a swell job in time of plenty and normality, but this crisis seems to have really brought out the support for one another, and local business, in droves.
EH: With all that being said, it's time to roll the red carpet out for you my friend. *Pointing to the imaginary television crew in my home office* This camera, this camera or this camera, tell NEPA how we can continue to support Zuppa Del Giorno during this time!
JM:Check us out on social media, Facebook and Instagram. Call-ahead, pick-up orders and delivery. The dinner to-go kits. The catering side of our business is still open as well, we can service 10-50 people with bulk salads soup and sandwiches. Our full menu is available for that. We also have online giftcards that can be used at any point now or in the future.
EH: Thanks so much for sitting down with me Joey, this was great.
JM: Take care man.
It's people like Joey and his staff at Zuppa Del Giorno that are helping whole heaps of people get through these unprecedented times. Please use the links in the article to directly support local business, thanks for reading.
Love & Peace.
Erich Hunisch
[email protected]
Director of Marketing
&
Wholesale Relations
Electric City Roasting Co.
833-558-2233