You Can't Hygge Without Coffee!
Mary Tellie
There is a new word going around like wildfire and people cannot get enough of it: HYGGE (pronounced HOO-gah). It is the Danish word for "cozy," and includes all things warm and snuggly – knitted socks, flickering candles, gooey cinnamon buns, crackling fire, a mountain of blankets and pillows, and most importantly, mugs of COFFEE.
The Danes know what they are talking about … according to the World Happiness Report, Denmark is the second happiest country in the world!
This idea of slowing down and embracing the present is challenging for Americans. Especially in NEPA (and especially with FEET of snow dropped on us in March!), we would do well to learn the art of hygge from our Danish friends.
Here are a few formulas we've come up with to help you incorporate more hygge into your life:
1. Your Hands – Styrofoam + Ceramic Mug = HYGGE.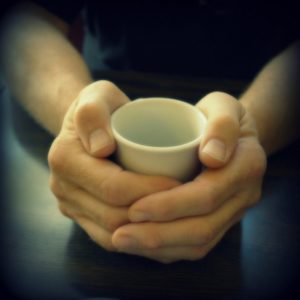 To-go cups are convenient, yes. But to truly hygge, ceramic mugs are a must! You need that cozy, pausing feel of a mug in your hands. And if you really don't have time at home to sit with a mug, at least invest in a reusable, glass to-go cup (once again, Keep Cups are our favorite).
2. Sound + Sight + Smell + Feel + Taste = HYGGE.
Home Brew! All of your senses are engaged when you brew your own coffee at home:
The sound of the beans being poured and the grinder humming,  seeing your loved one shuffling around in the kitchen preparing something special for YOU, the sweet aroma finding its way to your little nose, the feel of the warm mug in your hands, and the taste of the coffee perfectly brewed for you …
May we suggest a hands-on approach? We love using a Bodum French Press  and a Baratza Burr Grinder to properly hygge.*
3. Coffee + Community + Conversation = HYGGE.
Couldn't be any more clear! It's that simple, really. Hygge exemplifies warmth, and the best way to warm your body and soul is through cups of coffee shared with your favorite people. We love treating ourselves and our friends with an exotic Geisha, or for more everyday hygge, we like to brew a pot of Organic Peru Cusco! Or, for a more tea-like beverage, you can steep Cascara – the dried skins of coffee cherries!
There are countless ways to add hygge to your life. If you want to learn more, check out The Little Book of Hygge: The Danish Way to Live Well by Meik Wiking.
We hope these formulas help a bit. Here's to a hygge-full season of loved ones together, cozy nooks with books, and most importantly, warm mugs of COFFEE.
*According to the beautiful people of Denmark, "Hygge" can be used as a noun, and adjective, verb, interjection…heck, even as an expletive if the context merits!